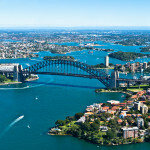 If I were to use the racing jargon, I would say that Sydney is simply cantering away from its rivals. Recording a 4.3% growth in median house prices for the September quarter, the harbour city has well and truly raised its tether and also raised the bar for its peers. Toby Johnstone in an article for The Sydney Morning Herald observes the trend.

Sydney smashes past the $700,000 barrier
Sydney has bolted past the $700,000 barrier and this will mean dearer detached houses as well as apartments. Johnstone says that amidst the property market revelry, we should not ignore to take a look at the first home buyers. They are certainly discomfited because detached houses will cost them $90,000 more and apartments $65,000 more now vis-a-vis January 2012.
It is far ahead in terms of national median housing growth
Nationally, capital value growth hasn't been anything worth talking about. Melbourne has posted a moderate figure (2.2%) and others have barely troubled the score keepers. In fact, median house prices in Canberra have fallen by 1.4%..
Major causes of Sydney's rise
Apart from the reasons linked directly to the property market, spree of overseas investors, multicultural canvas of the city itself, and leashed unemployment have together contributed to Sydney's change of fortunes over the last couple of years.
The Prestige Market is also resilient this time, as is witnessed by the auction clearance rates. This certainly augurs well for Sydney.
You can read the original article here.
Sydney has shot past Melbourne for the first time this year in terms of housing value growth in capital cities. From the looks of it, Sydney is all set to steal the march from here.
Overseas investors seek safe haven in Sydney
I would also like to point out that overseas investors not only seek a safe haven in Sydney (amidst investment volatility in other major real estate hubs), they also feel that university education for their children will hold more promise in this harbour city.
Real Vs. nominal housing value growth
I have a word of caution to offer here. In times of steadily rising household income, I would not lay too much emphasis on the median house price growth. It would be another story once we find the income-adjusted growth figures.
Do you think housing value growth is a true (real not nominal) reflection of a city's progress?