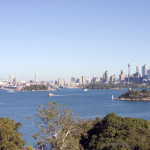 Sydney and Melbourne (and precisely in this order) are leading the recovery of the Australian property market. Capital city home value growth, many thanks to them, has shown a combined hike of 7.9% over the last year.
This however is not a barometer for the entire country and the super performance of Sydney alone has masked the snail-pace growth in many major areas. Canberra remains in doldrums and Perth and Brisbane are flattering to deceive most of the times. So to cut the story short, Sydney it is at the helm of the affairs.

In fact for the first time in a long stretch of years has Sydney surpassed Melbourne's home value growth and experts believe that this may be because too many factors for growth have converged on the harbour city at a very opportune time.
Sydney bolts past $700,000 barrier
Reports have just poured in that Sydney has also shot past the $700,000 barrier for median housing value. This is just another feather in the cap for a city that has already busted many predictions. The idea, dear friends, is to understand that any talk about Sydney closing on a property bubble is a myth.
This is no bubble
If you think properties are getting overpriced beyond all stretches of imagination then do not confuse it with a bubble-like situation. Relate it to the scarcity of land and the mad onrush of people to dwell in the various desirable locations of this mega city.
Less vendor discounts, less on-market time
In comparison to an average of 56 days recorded last year, properties are taking 44 days to sell once they are getting listed. This again when vendor discounts have come down from 6.8% to 5.7%.
High capital growth on cards, rental yields may weaken
With high capital growth on the cards, you may find rental yields weakening. This won't be a very big cost to pay because the intrinsic values of property market remain protected till the time capital growth does not suffer.
Sydney is looking good to post record auction clearances in months to come, just as it has been doing for the last 4 months. Low mortgage rates will also help us reduce our borrowing costs while taking a plunge into the property market. Here is hoping that the rates remain as they are for some time to come. This may be wishful thinking though because the lessening gap between fixed and variable mortgage rates is pointing towards a hike in cash rates.
Are you looking to invest in Sydney Eastern Suburbs yet?