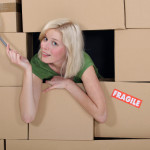 Nobody wants to move house in anything but perfect weather. While you need to be at the bottom edge of your luck to encounter cyclones and snowstorms on this day, you can very well face a bout of rain and thunder. So do you postpone moving? You are hardly in a position to do so by this time.

Hire a removalist
Your best option is to go ahead with the plan; albeit carefully. If you have hired a professional removalist, half your worry is being taken care of. Yet, it is worth noting that removalists are often insured only for third party injury and public liability. This implies that if your assets suffer breakage or are dislodged from the van due to rain, you will not be favoured any by their insurance.
Insurance of your removalist
With some luck and pre-reasoning you can procure the services of a removalist who has a special 'rain' endorsement in his insurance but then you never predicted the rain in advance so your chances of hiring such 'packers and movers' is pretty rare- almost as rare as someone thrown in universe and falling on earth.
If you are driving
If on the other hand you are yourself driving while moving house, remember trucks and big vans are not something you have handled before. Not only will you be handling a vehicle that you are not customary to handling, you will be doing it in far from ideal weather. To make matters worse, a Damocles sword will be hanging over you, given the emotional and monetary value of the content you are moving with.
Plastic over card board
I recommend you to use plastic boxes instead of card boards while moving house in rain. The latter is vulnerable in rain and may find its carriage strength waning just as soon as it becomes wet. On the other hand, the plastic boxes are perfectly right for the rainy weather- going by the inherent trait of polymerisation.
Old sheet over plastic sheet
While plastic boxes have great merit in rainy weather the same cannot be said about plastic sheets used on the ground. Hardwood floors are best represented by old sheets as they combine to provide a non-slippery surface.
Boots and gloves
Bonus tip- It goes without saying that sturdy boots and weather-centric gloves are the need of the hour, providing much needed extra grip.
How do you choose a removalist?