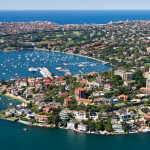 Australian property investment scenario is on an upswing, driving investment punters upbeat. According to the latest survey by Comm Bank, the country's Real Estate picture looks green, reports an article on the website news.com.au. This has been largely possible through the fortunate merging of several positive factors.

Elaborate distribution
The article elaborates on the matter, factoring first home buyers and experienced home buyers of different states according to the indices. New South Wales has the highest number of potential property investors at 54%. Queensland fringes the bottom and still sports a healthy number at 38%. Victoria is settled comfortably between the two. There are many who are hoarding houses for residential purposes while quite a few are buying houses to delve into investments.
Far-sighted plans
A sizeable number is even scheming far, looking to turn their existent residences into future property investment ideas. They are willing to undergo a few renovations, thereby escalating the monetary value of their homes and fetch profits in the future.
Three potent factors
Three factors are largely responsible for this sudden upswing. The RBA's decision to keep interest rates low on home loans is a big influence, something which held Australian Real Estate in good stead even during the Global Financial Crisis. Resultantly, an admirable number of properties have been purchased in recent time owing to affordable home loan repayment plans.
Paving a safe future
People are also discerning a stable retirement plan in property investment, wherein their future will be settled. Then there is the case of investment opportunity as well. Housing prices, after all, are not going down in Australia any time soon.
Some people are even putting their existent houses on rent while they tot up themselves in rented apartments. There is of course the odd negative fellow who has made his mind about downsizing his property.
You can read the original article here.
Government's move to strengthen Real Estate and Construction sector with the help of reduced cash rates has worked pretty well. Low interest rates have also brought few really lucrative mortgage deals for buyers. This said, the uncertainty hovering around the fixed rate scene is giving first impression of an imminent cash rate hike (though RBA has not changed it this month). As when cash rates go up and apply pressure on the fixed and variable rate loans, borrowers will be forced to smell the leather.
It will be interesting to watch  how  capital gains, rental yields, and property 'gearing' shape up when cash rate reverses.
Do you think an ultra-active construction sector will result in an over-supply?