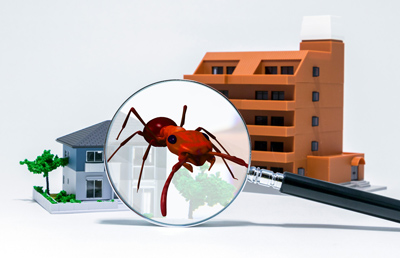 Pest control inspections hold a lot of merit. As a property owner, pest infestation or lack thereof can greatly affect the value of your property.
What applies to other investment properties may not apply to yours.
On whether it should be performed quarterly, half-yearly, annually or biannually depends on your property.
Find out if a yearly pest control inspection will suffice for your investment property.
If you are an investor with a high number of properties in your portfolio, a property manager will ensure you get the best advice from professionals and your wishes are carried out well.
A property manager will go over your tenancy agreements, title deeds, and arrange for repairs and pest control inspections, among other things.
With a reliable property manager, you no longer have to think of calling for and scheduling a pest inspection for your properties.
Your property manager will advise you on the most suitable pest inspection frequency for your property.
But there are times when you have to make the final call. Due diligence is still necessary before buying an investment property.
For property investors, FHBs and owner-occupiers, make sure to:
Have the home checked by a pest inspector (professional pest inspectors make use of moisture meters, thermal imaging cameras, and sounding equipment to check for pest infestation.)
Go over the pest report thoroughly
Examine the property
Allow me to cover the last point below in greater detail…
Check the age of your property
An older home is vulnerable to pests and may require more frequent than yearly pest inspections. Houses wear down as they age. Cracks and gaps appear, which can house pests. Wear and tear happen, and pests exploit this fact. About twice a year of pest inspection is ideal for an older property.
Check if the property in a pest-prone zone
There are certain areas that attract pests. If the property is in a heavily-wooded, bushy or damp zone, it is highly likely that pests will be a problem.
There are varying levels of vulnerability to termites and pests according to the location.
You can check for termite damage, holes, and cracks that can house roaches and mice. Also, check with your prospective neighbours if pests are an issue in their homes.
Check the fences, look for water formations
See how stable the fences are and check for pathways for pests to enter your property.
Also, find out if there are watercourses running through the house. Living things require water to survive, including pests.
Water sources and humidity attract pests because they can get water from condensation on walls and windows. Bugs also feel comfortable in humid places.
If you see that your property has vulnerabilities, it means frequent pest inspection is necessary.
Your property is worth it: Invest in yearly pest control inspection for your investment property
Whether you want to adjust how often to perform pest control inspection of your investment property largely depends on its age, location, and specific characteristics that make it vulnerable to pest infestation.
An added benefit to having regular pest inspections is pest inspectors can also check for early signs of structural damage.
Here's the thing, fixing structural damage is expensive. Better to nip it in the bud before it gets worse and you have to pay for a major home remediation.
The best pest control programs are regular and long-term
The best pest control programs offer ultimate termite protection and come with warranties.
For the best programs, yearly pest control inspection is the standard, unless your property is old and in a high-risk zone, which calls for more frequent pest inspection.
Pest-infestation spreads fast. Regular pest inspection of your investment property is crucial to making sure it is pest-free.
An investment property without pest control issues increases its value.
When was the last time your investment property underwent a pest inspection?