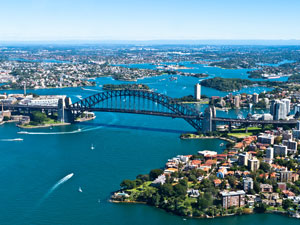 Nick Bendel writes an article for the Adviser where he says that the value of land has spiked phenomenally all across Sydney. The Harbour City has witnessed an increase of 19.6% in land value, taking the overall value to $1.34 trillion by the end of financial year 2014-15. That means the average Sydney homeowners are practically sitting on "golden lands", so to speak.

The success of various local governments
Eight out of nine local government areas experiencing 30% or higher growth are located in Sydney. The median residential land value of Blacktown shot up by 47.1% making it the fastest growing area in Sydney. The median for Blacktown stands at $375,000. Areas like Randwick, Parramatta, Holroyd and Shellharbour have also seen land values shooting fairly high.
Woollahra and Randwick among the star performers
While Mosman, Woollahra and Waverly were already in the $1 million median club, Randwick, Canada Bay, North Sydney and Lane Cove have joined them. Eight local governments have seen a dip in land values but all of them fall outside of Sydney. The valuation which the article talks about is only meant for land and not homes and associated improvements.
You can read the original article here.
Eastern Suburbs is a promising territory
Woollahra and Randwick are two of the promising territories of the Eastern Suburbs market and being a buyer's agent in these parts I feel myself a part of the blessed lot. Buoyed by the success stories of Rose Bay, Paddington, Potts Point, Point Piper and many others, the Eastern Suburbs market and especially its prestige market is moving into a beautiful phase. It is only expected that the area will be the happy-hunting ground for foreign investors in the foreseeable future, too.
If you are looking for a home in the Eastern Suburbs area, you will require the services of a seasoned buyer's agent. It is the only class of professionals which work exclusively for the buyers and hence do not face any conflict of interest. Feel free to call me today. I will be more than glad to help you to join the club of Sydney homeowners irrespective of whether you are planning to invest or buy a home for residing yourself.