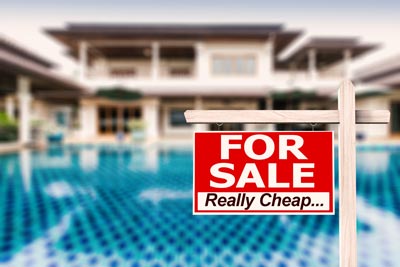 The real estate industry is a competitive field. To stand out, businesses employ different marketing strategies to entice more buyers to purchase a property.
And it's probably because of this, that some businesses end up walking a fine line between promoting their properties and spruiking them.
Property Spruiking
By definition, property spruiking is the use of unscrupulous and often exaggerated sales methods to persuade someone to buy or invest in a property. These schemes typically make bold claims. So bold that it almost seems crazy not to act and purchase the advertised property or investment program.
This is exactly what happened to Rick Otton's We Buy Houses (WBH). Otton, falsely promised clients that they can "buy a house for $1" simply by taking their various training programs.
These programs range from around $3,000 for boot camps to a hefty $26,000 for the more exclusive mentoring programs.
And among the techniques taught were a "sandwich lease option", "rent-to-buy", and something called "sweat equity" where the deposit is exchanged for clients making renovations instead.
According to Otton, "the technique was designed to help home owners who can no longer pay home loan repayments and with the help of a turnaround specialist, ensure that they do not become mortgagee sale roadkill."
However, the Australian Competition and Consumer Commission (ACCC) asserts that WBH purposely led buyers to believe that their techniques could allow them to build their own property portfolio without using their own money and purchasing property for only a $1.
Home Purchase Strategies
"We Buy Houses sold a lie to vulnerable consumers that home ownership could be achieved easily through strategies taught by Mr Otton," said ACCC deputy chair Delia Rickard.
In her ruling, Justice Jacqueline Gleeson sided with the ACCC. She stated that WBH's promotions weren't very forthcoming, since it can only be possible for clients who already have their own property, or could finance a bank loan.
"The headline 'how to buy a house for $1' indicates that [WBH and Otton] were directing their efforts principally towards people who were not property rich, but who would be attracted to the idea that they could make money from property without having to pay a significant amount for it," said Justice Gleeson.
Furthermore, it appears that there was almost no evidence that Otton himself had used the strategies he was selling, let alone made profits using them.
You can read more about how the whole case went down in ABC's report, here.
It all boils down to the old adage: if it sounds too good to be true, it probably is.
These property spruiking schemes are designed to be as tempting and as hard to catch as they can be. The very competitive nature of the real estate industry is prompting all kinds of gimmicks and scams. That said, industry experience and a keen intuition for real estate are critical qualities that you should look for in a buyer's agent to make sure you don't fall for of any deceptive methods. So if you are looking to buy property in Sydney's Eastern Suburbs, give me a call today.