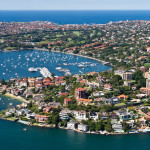 Few trends are clearly emerging now that Australia has entered its property cycle in depth. One such trend is that the prestige market has fashioned a distinct place for itself, says Michael Yardney, for an article on the website Property Update.

Prestige market has trumped other segments in value growth…..
Yardney uses, what has long been an anti-capitalism slogan, in a different context, to substantiate his point- "the rich are getting richer". No one is likely to complain though. It is all very pleasant out here.
….both over 6 and 12 months
The premium sector or the prestige market has gathered some serious momentum and has outdone the medium-range and the most-affordable market, both over the last 6 months and 12 months.
While dwelling values in the prestige market of the capital cities have risen by 6.7% over the last 6 months, middle segment has seen 5.8% value growth and the most affordable segment has witnessed only 4.7% growth.
Comparing over a year's time, we again see the prestige market topping with 10.1% value growth. In comparison, the medium and lower range housing markets have only grown by 9.5% and 7.5%.
272 suburbs with $1 million median price
To get further perspective, Yardney reads through a data which says that there were 188 suburbs with $1 million median price in January 2013. In January 2014, there were 272 such suburbs.
You can read the original article here.
Many factors converging to make the prestige market a success
With the stock market continuing its buoyant run and foreign funds finding its way into the Australian market (helped by the depreciating Aussie dollar), the prestige market is likely to continue its healthy spree.
Already Asian investors- and Chinese investors in particular- are looking for a safe property haven away apart from Hong Kong. The Australian government has eased its visa rules and in fact expediting citizenship for the big-buck foreign investors in real estate.
Those who can buy without raising sweat know that the future may belong to the property market and even the equity market may play second fiddle. Too many factors are converging to make the prestige market deals the "right thing at the right time".
Do you see China playing a long hand in the Australian prestige market?