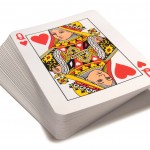 Are you a pro at blackjack but hitting all the blanks in investment? It is time for you to reconsider your bet placement motives in the stock market and other investment paths. There are some great ways to win good returns. Playing your investment cards much like blackjack will bring you big and steady returns. Remember the golden rule of blackjack – Cast Away all Your Fears. Advantages and benefits will fall into place.
Peter Wargent, a Chartered Accountant, discusses how you can apply your skill in playing Blackjack to increase your investment portfolio and gain massive returns in investment like Buffet and George Soros. Below are some of the steps that you can follow to increase your chances in winning the investment race.
Steps to Win the Investment Race
Always Believe in Big Stock Names and Bigger Bets. As a Blackjack champion never place your investment bets on small brands and cheap scales. Big things will win sooner or later. However, just like in Blackjack, you don't know what's the  outcome. You can only increase your chances of winning by calculating the risk and making a bet based on your calculations. Wargent mentions that the richest investors place big bets on high probability events. Upon considering everything that matters, if you think that the outcome will be favorable to you, go for it and win big.
Follow early lives of investment bankers and stock broking giants. This will make you believe in bigger dreams. You'll also have a glimpse of their experiences which will enable you to understand them better. If you know how they think, you'll soon see what they see and think what they think.
Increase your bet when odds are high in your investment. This is what blackjack professionals do. When the probability of success is high, don't hesitate to increase your bet. Remember, you're playing to win. You're not playing not to lose.
Consult professionals in the industry to assess your current and future finance plans. It's very easy to lose yourself with all the excitement of possible huge fortunes resulting from your investments. However, you must be careful not to incur too much debt because of it. It's good to dream big but it's also important to keep your eyes, ears, and mind open. Don't gamble everything.
Do not neglect small details. Even a single move can bring big financial returns similar to a blackjack play. Managing your finances well will go on to manage your investment. Sometimes, small investments can grow exponentially when properly managed.
Join the parts with the financial whole. Achieve financial freedom by implementing the right tools and financial strategies. Keep yourself updated with what's happening in the business world. You'll know what to do when you have all the information you need.
Investing is fun but a little dangerous if you lose yourself in it. Focus on your financial education to avoid making costly mistakes.
You can read the whole article here.