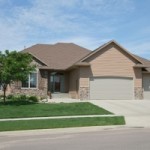 In an article for Property Update, George Raptis puts forth his opinion on which would win in a toss-up between houses and units about which one is the best property to invest in. The traditional line of thinking suggests that the "value lies in the land and not the building". This implies that houses should be favoured over apartment units.
Houses and units are inherently different
In Raptis' opinion, however, both are quite unlike each other and cater to separate needs. Two buyers with different mindsets may accord different values to them, nominating house over unit and vice versa. What you seek as a buyer goes a long way in deciding which way you may lean towards.
The deciding factors
As a property investor, what weighs heaviest on your mind? Is it capital growth? Rental yield? Proximity to the cafe culture/transport/amenities? Financial affordability?
Raptis contends that owner-occupiers might push certain demographics very high on the capital growth radar and these are the areas where units are likely to surpass houses.
An important statistic
A significant statistic emerges suggesting that between 1986 and 2011, single-person households have shot up by 5 per cent, whereas family households have come down by 6 per cent. This, not surprisingly, is a clear proof in favour of units. It is also evident that in some areas, the rate at which units are soaring is above their counterpart- the single dwellings.
Body Corporate fees
One aspect about apartments that you need to prefigure is the structure of the Body Corporate fees. They should not be high enough to encroach upon the profits coming out of the positively geared properties.
In Raptis' view, you will be doing good if you take care of the demand-supply graph, demographic and need for portfolio diversification; possibly the three Ds of property filtering.
You can read the original article here.
Gentrification
In my view, gentrification should be accorded more importance than it has been given in the past. How collective societies develop, how they move towards urbanisation and make their bid towards cafe culture (coping with it first and then reveling in it) determines the choice of units or single dwellings. In my view, the "value of land" debate holds a lot of water and yet Australia, with time, is more likely to move towards dominance of unit apartments.
Which (houses or units) do you accord more importance and why?