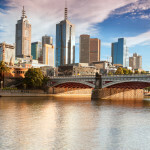 Chinese buyers bought $5 billion worth of property across Australia in 2013. This heats up speculation that rampant foreign investment has forced local investors out of the market. Even as the media keeps reiterating on this line, Vivienne Kelly resorts to data to guide us through. In an article for the website Smart Property Investment, she suggests that the total worth of property sold in 2013 was $240 billion. What percentage is the Chinese investment then?

The "foreign investment" myth
Only a shade over 2%, is it not? So how does the "local investors forced out of the market" come into the equation. Kelly rubbishes rumours and asserts that "Sydney is not full". In fact, it never has been. Each time the government says so, all it intends to do is to find an escape route from the infrastructure costs it may have to incur to keep this truly international city going.
Unsustainable growth
House prices are rising to an unsustainable level and foreign investment is chalking up absurd numbers. The government camouflages its lack of intent in these two excuses and the situation, for long, has dished out poor productivity growth- a by-product of lack of infrastructure investments.
Kelly offers a counterpoint when she claims that foreign investment in new stocks will make our economy stronger, if anything, a point that is more than echoed in the statement of Louis Christopher, managing director of SQM Research.
Sydney is stronger than ever
I think more than 10,000 articles which talk about a 'bubble' situation are floating on the web. This only perpetrates the myth component of the debate but a bubble- which is impending, say cynics- is not backed by the data sheets. Sydney is going strong, it has shown brilliant capital growth, is good for more, investment in new properties will only make the competition stiffer and economy more robust. SMSF money is rallying heavily into the residential property market- another piece of good news
Foreign investors are getting great incentives to invest and things are looking tidy overall. Yes, we will only get stronger from here. In my mind there are no questions about it. Perhaps, our only concern is the situation of housing shortage presented by population growth. Here is hoping the government is keen on finding answers to this problem.