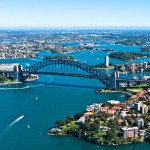 George Raptis writes an article for the website Property Update in which he talks about certain areas of the Sydney property market where you cannot buy properties for less than $1 million.

64 suburbs in Sydney trading properties above the $1M mark
Over the last year, there have been 64 such suburbs where not even a single property has been transacted for less than a million. This is essentially a powerful statement on the performance of the Sydney real estate market for sure!
You can read the original article here.
Eastern Suburbs tells the same story
Sydney's performance in the last five years has been simply remarkable and the Eastern Suburbs tells the same story. In prestige markets like Vaucluse, Rose Bay, Point Piper and Potts Point, among others, properties sell way above the $1 million mark.
View of experts is divided on Sydney
Experts have a bipolar view of this real estate development. Some feel that the Sydney property market has run its course and that we will soon have a number of market corrections which will bring down the price a great deal from their present peak.
Others feel that we are still well in control of our economic fundamentals and Sydney can now hold on to its prices for a long time. Yes, there will be mellowed-down capital growth in months to come but there will not be a chaotic decline in prices as experts with a more conservative view suggest.