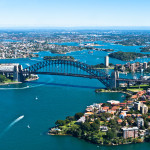 Faster equity build-up and favourable house prices have ensured that Australians feel a lot richer (at least perceptively). An article for the website The Adviser states that household wealth, across the country, has grown by an average of 10% in the first quarter of the year.

Sustainable value growth
The value growth, the article argues, has mellowed down a little this year but the pace has been extremely strong nonetheless. Yes, it can be debated with success that the rampant capital growth witnessed in the year 2013 may become a thing of the past and we should be seeing strong but sustainable growth from hereon.
Low interest rate climate
The low interest rates have made sure that growth can be robust without forcing any threat of inflation on us. Sydney's house prices have shot up in excess of 16.8% and Melbourne's prices have increased by 11.7%. This shall augur well for the property market across Australia as the property ball might ricochet further onwards towards the less fortunate ( in terms of capital growth) cities of Brisbane, Adelaide and to an extent Perth.
Time-on-market/Vendor discounts
Time-on-market and vendor discounting are both close to their decade lows while investor and owner-occupier enquiry are at their robust best. Foreign investment signals also augur well for the prime cities of Australia
You can read the original article here.
New dwellings versus total listings
I want to add something here. The properties are vanishing fast from the market but while the total number of listing is showing dwindling numbers, the number of new dwellings listed is increasing incessantly.
In other words, peaking construction activity in Australia is giving "new dwellings" a brilliant lease of life and at the same time, low time-on-market is ensuring that property market demand and buoyancy is not disappearing any time soon. This is good news especially because such market times are being recorded despite low vendor discounting rates.
Foreign investment
Foreign investment has till date been the subject of great scrutiny. There are many who feel that expatriates and Asian investors are bulldozing their way into the Aussie real estate, elbowing the FHBs and low-price owner-occupiers out of the race.
This could not be farther from the truth because the ratio of new dwellings: established dwellings present a very low figure, thus ensuring that the foreign investors- who are restricted only to the new dwellings- never get to attack the Australian market as such.