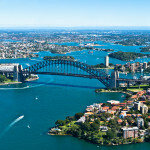 Michael Yardney, while writing an article for the Property Update, talks about a few things we have already heard but the perspective is fresh and the article quite engaging nonetheless. According to him, we have just hit the expansionary stage of the property cycle and this will cause a ripple effect. To explain, property prices will grow in the inner suburbs and slowly but steadily capital growth will move outwards, ending in the growth of the outer suburbs.

Strategically located residential areas will be the key
He says that buying in desirable locations of residential real estate will be the key to capital growth. Inner suburbs have shown great value growth for capital cities and the trend is likely to continue till the ripple effect drives growth towards the outer suburbs; all this, only when the inner ring reaches its growth saturation.
Seize opportunities in Inner Suburbs
In the wake of these facts, great investment opportunities can be seized in the inner suburbs of Sydney and Melbourne. Sydney is landlocked and town planning constraints disallow further expansion of Melbourne. Thus, land will always be scarce and hence at a premium in these places.
Expected effect of population growth
Yardney contests that the noise about an impending property boom does not deserve attention and prices are not expected to come down in foreseeable future. Population growth will make land even scarcer in the capital cities and an avalanche of 2.3 million individuals in the next 5 years will seal the "capital growth" predictions completely.
You can read the original article here.
Overseas investor's blue-eyed baby
In my opinion, Sydney will canter away from Melbourne, Perth and Brisbane because lot many factors are weighed in favour of the harbour city in this property cycle- none of greater importance than the fact that overseas investors look at Sydney as a multicultural, global city. For them, it is a safe haven for investments and gives their children a great future in terms of education.
Sydney's value growth of 4.3% for this quarter is almost double that of its nearest rival, Melbourne. With land remaining scarce, the dynamics of demand and supply will bend the equation squarely in favour of this great city in times to come. Terrific investment opportunities to be had for sure!
Have you benefited from any of the Sydney auctions yet?