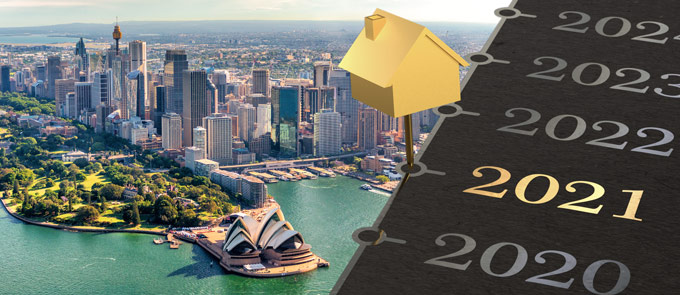 With 2020 finally over, it's time to take a look at the Sydney property market forecast for 2021. COVID-19 proved to be a major disruption to the real estate industry. However, its impact wasn't as bad as many initially thought.
As we push forward with the new year, many experts feel optimistic about the Sydney market's chances. Making a sound property investment depends on how well you can temper your expectations.
2020 – A challenging year for real estate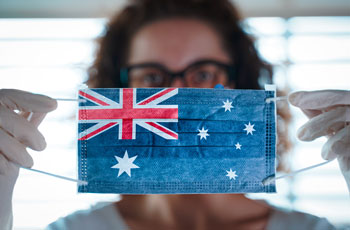 2020 was a particularly difficult year for the Sydney property market.
At the end of 2019, median house prices were down 2.5% on an annual basis. Prices were also more than 10% below their peak from two years ago.
As bad as things may have seemed, industry experts still looked forward to a better 2020. They expected house prices to increase between 5% and 10%. They also anticipated the Reserve Bank to cut interest rates again, which would've helped fuel the increases further.
Many experts believed that the surge in Sydney house prices stemmed from a surge in demand relative to supply.
However, the momentum came to a screeching halt at the onset of the coronavirus pandemic. COVID-19 had far-reaching impacts on the Sydney property market.
The uncertainty surrounding the economy forced many sellers to pull their properties off the market. They were afraid that the pandemic might affect pricing. In May, the number of listings in Sydney were at their lowest.
While some Sydneysiders shied away from selling, others took the risk of buying property. Several banks offered 2.40% to 2.50% fixed interest rates for 3 years. This made it more appealing to borrow money and invest in property.
Throughout most of 2020, home values in Sydney were down -2.9% from peak-to-trough. But by October, the property market had already turned the corner .
By the end of last, CoreLogic recorded a +3.73% change in its Sydney Home value index over the last year. Value index for houses finished at +4.95% and units at +0.98% (year on year).
What you can expect for the Sydney property market in 2021
Many of the hurdles that plagued the real estate industry in 2020 are still present this year. But we now have a better understanding of the challenges in front of us. We're starting to see more activity in the property market, enough for experts to feel optimistic.
Here are some factors that influence Sydney property market forecasts for 2021.
House prices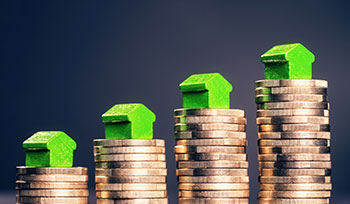 Following the COVID-19 outbreak, experts feared that house prices could drop by as much as 30% nationwide. But the property market held up relatively well throughout 2020. Between April and September, prices dropped only 2.1%. It was able to bounce back toward the end of the year.
Sydney, in particular, is poised to make a comeback in 2021. ANZ expects the NSW capital's house prices to grow by 8.8%. Meanwhile, SQM Research believes it will increase by 7-11%. The latter's analysis is dependent on whether JobKeeper is extended and a COVID-19 vaccine is rolled out.
Other 2021 Sydney property value forecasts include 14% (Westpac), 8-10% (Riskwise) and 4.4% (NAB).
Even in worst case scenarios, house prices in the city could remain steady or increase by 4%.
For more information, you can check out ANZ's forecast on house prices for 2021 here. You can also read about SQM Research's analysis here.
Property prices are up but rents are down
According to Domain.com, several parts of Sydney registered double-digit property price growth over the previous year. This came back in September, just as house prices started soaring due to buyer competition.
Some of the suburbs that had the biggest price increases include:
Belfield (house) with a median of $1,202,500 and 34.4% YoY change
Bexley (house) with a median of $1,130,00 and 32% YoY change
Bayview (house) with a median of $2,237,500 and 31.6% YoY change
Darlinghurst (unit) with a median of $1,130,000 and 35.3% YoY change
Rose Bay (unit) with a median of $1,450,00 and 31.8% YoY change
Fairlight (unit) with a median of $1,355,000 and 27.2% YoY change
While property prices went up toward in 2020, rents went the opposite direction. The city experienced low rental values over the year across several regions.
The biggest declines were across the City and in the South Sydney region. The latter had rental values that were down as much as 4.1%.
The following chart shows Sydney dwelling markets with the largest rent changes through June 2020, according to CoreLogic.
| Suburb | Rent change (%) | Median rental AVM | Yields (%) | Total rent listings (Mar. 2020) | Total rent listings (June 2020) | Change in rent listings (%) |
| --- | --- | --- | --- | --- | --- | --- |
| City & Inner South | -4.1 | $668 | 3.3 | 3,700 | 5,131 | 38.7 |
| Eastern Suburbs | -3.7 | $742 | 2.9 | 2,278 | 2,990 | 31.3 |
| North Sydney and Hornsby | -1.6 | $710 | 2.9 | 2,963 | 3,269 | 10.3 |
| Northern Beaches | -1.6 | $867 | 3 | 1,201 | 1,069 | -11 |
| Inner West | -1.3 | $640 | 3 | 2,259 | 2,577 | 14.1 |
Source: CoreLogic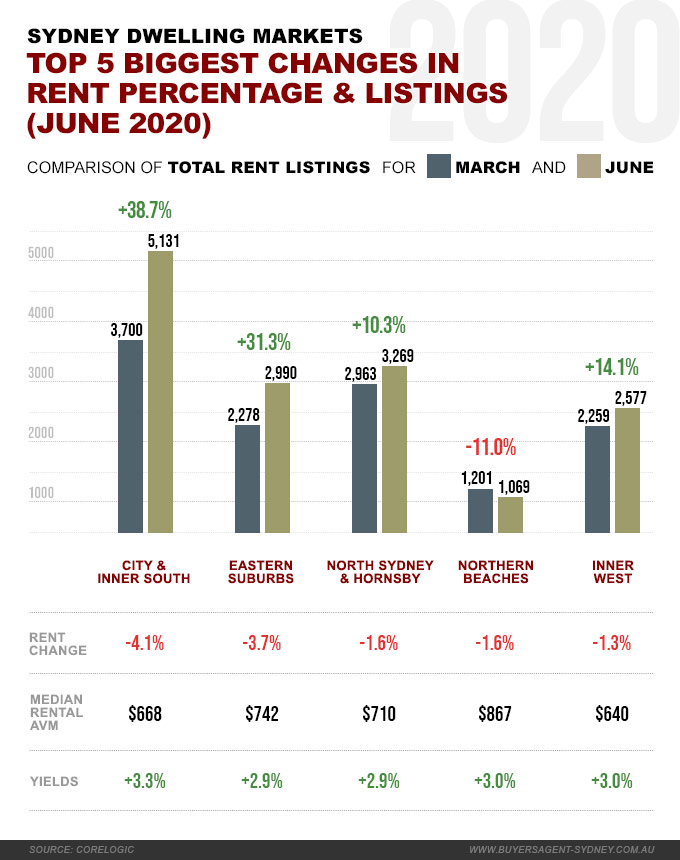 Interest rates
The Reserve Bank of Australia cut interest rates to 0.1% in 2020. This was way below the previous record low of 0.25%. The RBA also announced that they don't expect rates to increase for at least three years.
Some banks also started offering fixed interest rates between 2.40% to 2.50% for three years. This was significantly lower compared to the 3.70-3.90% rates from 2019. With such low rates, more people now have an incentive to buy or invest in Sydney property.
Consumer confidence
Australians are also becoming more optimistic about the economy's future, according to an ANZ-Roy Morgan report. The group recorded a 106.6 consumer confidence rating in the final week of November. This was up from 99.7 during the last week of October.
By the end of January, the consumer confidence rating is now at 112.1. This is a good indicator that people feel more confident about their financial spending in 2021.
You can check out ANZ-Roy Morgan's Consumer Confidence weekly report here.
Clearance rates
With low interest rates and consumer confidence on the uptick, we can still expect an active auction market. In fact, several transactions have already been made in the first month of 2021.
Domain reported that clearance rates in Sydney were at 80% as of 30th January. This was close to the 77% rates recording during the same time last year. There were 250 auctions scheduled and 206 reported. About 164 properties have already been sold, 11 withdrawn and 31 passed in.
The total sales for the month reached $159,228,600, with a median of $1,152,500.
If things stay the same, the Sydney property market could remain hot throughout 2021.
Things you need to look out for
According to Michael Yardney of PropertyUpdate.com, not all Sydney properties will increase values at the same rate. In his forecast, A grade or 'investment grade' properties have the biggest chance to increase in value.
Meanwhile, B grade properties should also increase but not as much as A grade ones.
Yardney expects C grade properties to struggle the most. He believes that these properties will have a flight to quality as markets continue recover this year.
The following are sectors that will have a difficult time rebounding in 2021:
High-rise apartments
Off the plan apartments
Established homes in outer suburban new housing estates
Properties in the blue-collar areas
Should I buy/invest in the Sydney property market in 2021?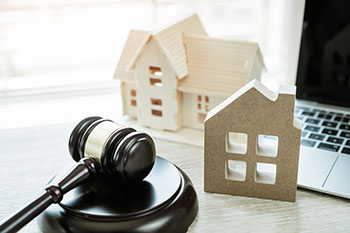 Sydney remains one of the most enticing property markets to invest in 2021. Despite the coronavirus still impacting the economy, there are indications that things are looking up for the city.
Major financial institutions have earmarked Sydney for considerable growth in house prices this year. From Westpac's optimistic 14% to NAB's conservative 4.4% forecasts. These suggest that the property market will continue to be stable in 2021.
Banks are still willing to provide borrower-friendly interest rates. It should encourage more Australians to buy or invest in the property of the dreams this year. The low rates make it less likely for people to sell off their property even if they hit hard times.
It's also great to see that the auction market is back in full swing. The 80% clearance rate in January is comparable to rates during the same time last year. It shows that buyers are back in the Sydney property market.
Far from perfect
We've had some good news but the situation is still far from perfect. The property market may have moved up from its low point in 2020. However, some sectors are still expected to struggle in 2021. These include off the plan and new high rise apartments.
My personal take is that people should still invest in the Sydney property market in 2021. The economy is doing a lot better than what many expected following the COVID-19 outbreak.
I think the potential rewards in property investment are still very much worth the risk. It all depends on finding the right kind of property to put your money into.
And if you're not sure which property to invest in, you can always count on a professional Buyers Agent to help you out. I can show you everything you need to know about Sydney real estate scene, especially our Eastern Suburbs , Northern Suburbs and Inner West.
Here's to better property investment opportunities this year!