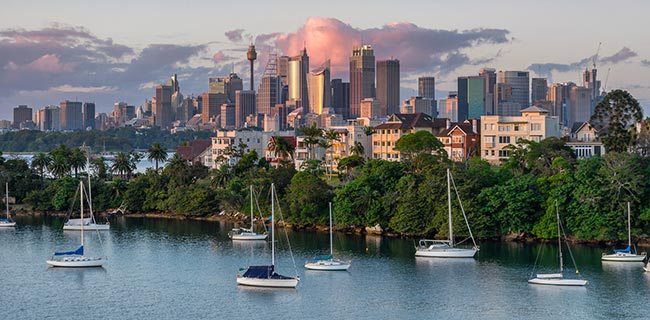 Most Sydney property investors ask this question: Will property prices go up and, if so, by how much?
A recent article by Caroline James at realestate.com.au notes that Sydney, compared to other capital cities, has been the star performer over the past five years. But will it continue to do so?
I also noticed a particularly surprising outlook for Canberra.
In her article, James quotes data from CoreLogic. The data shows that from 2010 to 2015, property prices in Sydney grew by 43.4 percent.
But will property prices continue to increase until 2020? Very likely, but only if the following three important factors remain the same.
High overseas migration to Sydney
Since late 2009, overseas migration to Sydney overtook the birth rate as the main source of Australia's population growth. The article mentioned that overseas migration accounted for 54% of Australia's population increase in 2015. Having more people in Sydney drove the demand for more houses, and in doing so, boosted the property prices.
Low migration away from Sydney
Australians will continue to purchase properties in Sydney because it is the biggest city and has the most jobs. Both housing costs for workers and office space for businesses are cheaper in other parts of the Australia, but since there are more job opportunities in Sydney, people do not wish to migrate away from the city. With overseas migration increasing and local migration decreasing, property prices in Sydney had no choice but to go up – which is great news for investors.
Shortfall in housing
Despite a boom in apartment building in some pockets of Sydney, overall demand for new homes is continuing to outstrip supply. The underlying demand for new homes is still expected to grow further, by 63,000 new homes, leaving an annual shortfall of 7,000. So we can expect prices to keep growing until the demand for new properties evens out with supply.
You can read the original article here.
My Take
In her article, James states Australia's property market is far from a one-size-fits-all, and I couldn't agree more. Some suburbs in Sydney will be more popular than others, some areas will have more scarcity than others and over time some land will increase in value more than others. But still, investors can be confident that the overall Sydney housing market will continue to grow until 2020.
Canberra's Outlook Is A Real Surprise
Hmm, food for thought. So really what we are saying is that we don't know which way prices might go in Canberra. And we won't know even more if there is a change in government. In other words, there really is no change in our predictions, whether there is a new government in Canberra or not…
Sydney's Eastern Suburbs Outlook
In the eastern suburbs alone, properties are expected to have average annual growth of 10 per cent or more over the next five years. Unlike other Sydney properties in the lower-end of the price scale, real estate in the eastern suburbs isn't subject to the same restrains put in place by affordability concerns. This means that the clientele that is looking to live in the eastern suburbs are less concerned with price, but are more keen in investing their money in a location that will give them higher returns in the next five years.
And we know that higher property investment returns is always great news!
To know more about property investment in Sydney, especially the Eastern Suburbs, contact us today.