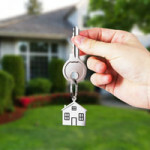 One question buyer's agents have to answer rather frequently is, "When is the best time to buy?" Currently, interest rates are low (they have been for a long time now) and banks are competing fiercely to grab buyer attention. This makes it a good time to go for investors and first home buyers (not to mention the next home buyers).

Need for Due Diligence while buying homes
Unless we are Warren Buffets, we don't buy a home every day. So, it is good to conduct Due Diligence and put in our A-game forward in every respect. The process of home buying begins with evaluating the budget and establishing our boundaries. But up to what point can we go and when does it become really steep?
Assess mortgage term
In this regard, we will do well to remember that it is not only the upfront costs that have to be taken care of. Banks make us mortgagee after establishing fixed or variable interest rates for our loan. We must ponder if we are good to tackle the mortgage if there is a correction in the interest rates. Will it then suddenly make our liability too high for our comfort? Long story short, it is good to assess whether what seems like a decent mortgage term will remain so if there is a 1-3% increase in interest rate.
What property type are you looking for?
Next question is property type. Every investor looks to balance his/her portfolio and every buyer has a certain vision in mind. If you're a site flipper, maybe you are looking for a fixer-upper; if you're a student, you may have a studio apartment in mind; and if you are a baby boomer, you may be looking to downsize. So, it is important to establish what kind of property your focus should be on.
Hunt for a buyer's agent
Once you are through with these aspects of property-hunting, you should begin the search for a buyer's agent. While you can make do with real estate agents, it is a no-brainer that buyer's agents are solely focused on buyers and hence there is no chance of conflict of interest arising. It is not hard to fathom that a professional whose sole aim is to get you a better deal will help your cause better than those professionals who attend to both buyers and sellers.
Make a checklist of family needs
Set your family needs highest on the property ladder. Sit and make a checklist of all that you want. Maybe one or more of your family members will feel they got a relatively raw deal, but focus nonetheless on attending to the needs of every single member of the family. For instance, you do not want curving staircases if your aged parents are living with you or the kitchen far from the playroom if you have toddlers at home. If you have adult children of both genders, you may be looking at separate rooms for them to allow them greater privacy.
Comparable sales figure
Probe deep and find what the council has to say about the comparable sales figure for the neighborhood you are prospecting. It is not some data that you can get your hands on very easily, but if you latch on to it, you will be able to determine how much a property equivalent to yours (and lying within a short radius from yours) has sold for. The sale must have occurred in the last 3-6 months. This will give you your sale price.
There are many questions you need to answer before you sign on the contract on the date of settlement. How well you answer all these questions will determine if you can really open up the bottle of champagne when the contract is finally signed. And yes, do not ever sign anything without conducting a thorough building and pest inspection. You do not want rotten wood coming out of the basement walls, do you?