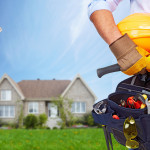 Real estate investors have become thoroughly busy and this has grossly affected the position of first home buyers. In the context, mooting over the idea of purchasing a fixer upper appears extremely attractive. Hold your bus, however, for there are certain considerations you cannot venture to overlook while making your decision; whether or not to buy the fixer upper. Here are a few of those considerations.

Check your budget
Reflect on whether the fixer upper is falling within the range of your budget, and if so, why. There may be issues kept secret from you. The entire structure might have become too brittle over the years. The basement may be prone to develop huge cracks anytime, the roof might fall and the electrical fittings might just be waiting for an accident to happen. In short, you should get detailed about the exact condition of your home before imagining your layout and making your decision.
Three important criteria
You cannot compromise on three important criteria even if you are eyeing a fixer upper. Ideally, your neighborhood should be away from the bustle (that causes dust and makes shifting layouts difficult) and yet easily accessible. Secondly, the fixer-upper should have adequate number of bedrooms and baths. Thirdly, the layout should be flexible enough to make the changes you envision. Go for purchase only if these criteria are met.
Alternative living options
You need to note that it is unwise to live on the premises while the renovation is being undertaken. This is especially true when you have kids or people in your households that are sensitive to dust allergens. You may rent an apartment flat while your fixer upper translates into your dream home. Scour for a valid and thorough inspector to get the actual assessment of your house and an estimate of expenses involved. While you may go DIY over small issues (painting), it is imperative to hire experts for intricacies (read electrical fittings, plumbing).
Actually, the original settings in the fixer upper may be too anachronistic to utilize in modern times, so don't hesitate to undergo a complete makeover wherever required.
Get novel designs
Open yourself to new ideas and designs on how to modernize your fixer upper (That way, you get a delightful fusion of old and new). It is a great idea to employ efficient designers and smart professionals to plug the holes and spark them.
Assess the expenses
While renovating a fixer-upper, you are bound to encounter a mix of huge and small expenses. Kitchen remodeling, HVAC installation and driveway paving are examples of huge expenses while fixing of leaks and cracks, carpeting and sundry replacements cost less. All these expenses are necessary and you should accrue them to the fixer upper quote to assess whether you are going off-budget or otherwise.
Ultimate advantages of fixer-upper
There are certain sure-fire benefits of grabbing a fixer upper. The cost element is a plus and you are always in with the chance to renovate and sell at a higher price. You can be imaginative with the designs and get a feeling of inhabiting a house you dreamed of. Moreover, your practical knowledge about certain DIY techniques (plumbing, drilling; painting) is eminently enhanced.
Do you eye a fixer-upper for residential or investment purposes?