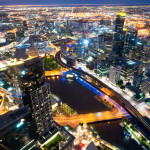 The housing industry contributes in no less terms to the Australian economy and certainly no lesser since the government decided to cut down cash rate to take the economy away from the mining sector to the construction sector. We have the largest percentage of home owners across the planet and it is only natural that most of us have an opinion on the housing industry. This often results in too many myths percolating into our collective conscience.

Myth: We are in a bubble
The most prominent real estate myth; one which borders on incredulous is that our property market is in a bubble phase. Before anything else, it must be asserted that we haven't done any phenomenally. The prices seem to have come up a lot only because they had spiralled down drastically prior to the recovery and the 'so-called boom'. In fact, when compared to the last period of growth, the present good run only comes second.
Fortune reversal for Sydney and Melbourne
I think that a lot of it also boils down to the fact that Sydney and Melbourne were laggards during the previous run and this time these are the star performers. It is only obvious that any growth phase piggybacking on the success story of two of our most famous capital cities looks even more impressive and this is exactly what's happening here.
Australia close to its intrinsic economic values
The median housing prices are very close to our household incomes. They would have definitely looked to spike had there been even a remote sign of bubble. There is also a lot of talk about overvalued homes. Yes, it is a statistical fact for Australia today but equally distinct is the fact that a lot of homes are undervalued. Real estate rebounds is how I prefer to link the price booms and I would certainly not associate the term 'boom' with it.
Can you talk about a few more property market myths and how you feel about them?