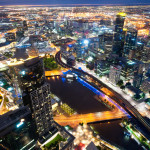 The year 2014 can bring really good tidings for the property market, writes Peter Kouilzos for the website realestate.com.au. Opportunities for property investors won't come into being due to any extraordinary capital growth but will arise out of the present environment of low interest rates.

Easy repayment terms
Kouilzos argues that the rates are already very low and if there is any chance of its further slackening, it is now. This then presents a smart chance to borrow through a variable rate loan or a part fixed-part variable rate loan at really comfortable repayment terms.
Prices won't go any lower
Kouilzos also feels that property prices in many cities are hovering a lot below their previous peaks. The robustness of Australian economy will ensure that prices in these areas will only increase from here. At other places like Sydney, capital growth won't be rampant but prices won't bottom out either. This is to suggest that now can be the best time for property investors.
You can read the original article here.
Foreign investors
Point well made Mr. Kouilzos! My line of thinking points towards a great 2014 for property investors, too. Depreciating Aussie dollars will give the best bang for bucks to the foreign investors who will make a beeline for every hierarchy of property, no less the prestige market.
Depreciating Aussie dollar
The depreciating dollar will also give further impetus to the share market and work towards offsetting the present lows of the commodity market. Economy bolstered on these fronts will create more disposable income. Real estate investments (if consumer sentiment index is anything to go by) will find its way to siphon off a better part of this disposable income.
SMSF investments
SMSF investments in residential real estate will only increase from here on and there is no shortage of evidence to suggest that in 2014, SMSF industry will bend its rules towards cutting the first-home-buyer end of the market.
Construction industry
I also think that a fresh breath has been infused into the housing construction industry. This will set a chain reaction which will first spur the labour industry and next the renovation industry. More renovations will mean more buying incentives for investors.
It is surely looking great at the moment!
Where do you see the Sydney property market heading from here?