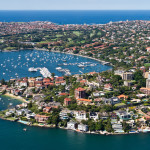 Aidan Devine for the website Your Investment Property talks about Sydney's growing prominence in the global residential property market. Having quietly fancied Sydney's chances since last decade, I feel vindicated by Sydney's strong show. Investors in Hong Kong, China, Russia, among others are picking the harbour city ever so frequently to park their money.

Trophy buildings
A trend worth noticing is the rise in buyer's expectation. They do not mind forking out more for properties but at the same time overseas investors want a taste of the best. Keeping this in mind, developers are looking to interact with the best designers and architects, aiming to create high-specification buildings (remember the phrase "trophy buildings").
All the markets are going through this transition phase which is marked by a "flight to quality". Sydney, being the cynosure of the investors' eyes, is not untouched by this change. "Best property in top location" is certainly the property investment mantra today.
Yuan high on momentum
Dominance of Chinese investors is partly attributable to the strong momentum generated by Yuan. In part, it is also the result of conservative (read restrictive) policies pertaining to residential real estate in China.
You can read the original article here.
Pleasing government policies
In my opinion, it only helps that Australia's  government policies streamline the entry of  large-cap investors into the Australian soil. After all, citizenship issues become a formality if you are willing to put in more than half a million into Australian real estate. This is one reason why the harbour city will continue to excel.
South East Asian investors in particular also look at Sydney as a safe haven, a place where their children may have a future (good education). This is making them think not only as investors but also as Prestige Market buyers.