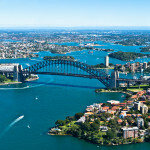 The property market is on recovery mode but rise in median house prices or capital city value growth should not be made an occasion for celebration just yet. Michael Yardney for the Property Update mentions how the 2.2% growth in median housing prices this quarter is quite moderate and even below the last quarter's performance  by 0.3%.
The average capital city value growth is not a true reflection of the country's property market either. It's just that Sydney to a very large extent and Melbourne in a smaller capacity have overcompensated for the patchy performance of other capital cities; and hence the growth.
Consumer sentiment, though reported otherwise, is still sloppy and there is sparse growth in household income. Recent oversupply in Sydney may impact rental yield negatively but the capital city itself (along with Melbourne) should continue to do well.
You can read the original article here.
Do you think Sydney will beat Melbourne flat in terms of value growth over next few years?