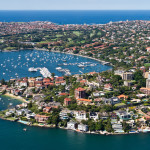 For a few weeks even the die-hard loyalists of Sydney thought that the high auction clearance rates were a flash in the pan. When the rates continued to be impressive, they became a little optimistic, desperately trying to believe in what they were seeing. Today, they are a vindicated lot. For 14 of the last 16 weeks, Sydney has posted higher than 80% clearance rates and this in itself is a record.

Unprecedented number of properties lined up
As many as 747 properties in Sydney are lined up for auction this weekend– a volume unheard of since the last 3 years. The optimism has surely got funnelled all the way to the buyers who are making a beeline to secure their loved properties.
Time for "replacement"
God won't grant any more land to Sydney so it will squarely be a case of who can bid higher. Those who can spend money generously will get their chance of replacing the existing landholders (homeowners) of Sydney and high clearance rates is just an indication that this "replacement" bit has caught momentum.
At Auction sales
For the last weekend, Sydney's auction clearance rate was 83.2%. This is even more unique a feat because the number of listings were pretty high. Another point that further emphasises the value of the clearance figures is the fact that Sydney's property sell at auction rather than before or after auction via an ambiguous boardroom arrangement or a private treaty.
The figures area-wise
As witnessed by the trend, Upper North Shore has made maximum auction headline, claiming a total of 131 properties under the hammer for this week. Inner West has 107 to its name while South has listed 86 properties.
Even in a Utopian climate, there is nothing called a 100% clearance rate because some properties are always struck off before coming under the hammer. Having said this, Sydney definitely looks good to post a total as close to 100% as can ever be the case. In fact, time is just ripe for such an occurrence.
Why do you think Sydney is managing such a robust auction show?