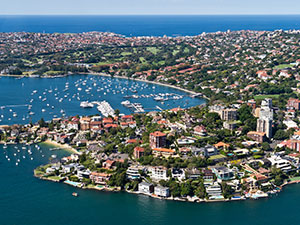 Investing in property in Australia, specifically in Sydney can be quite tricky as the real estate market down under has been doing so well for the past decades.
People wonder if it's a good idea to put their money in properties because after so much growth there has to come a bursting bubble, right?
But, with the strong economy and low base interest rates (1.5%), investing in Australia real estate may still be good move for increasing your overall wealth and financial portfolio.
Here's why:
Fast-Growing Population
The Australian Bureau of Statistics estimates Australia's population changes at the rate of: one birth every one minute and 44 seconds and a net gain of one international migration every two minutes and 39 seconds. This year, the population has increased to 24 million, with a good percentage coming from migrants.
This is an important factor to consider when thinking about investing in Australia for properties. These foreigners moving to Australia have to stay somewhere and unless they are moneyed migrants, they would want to rent a place somewhere, perhaps maybe your investment property.
Resilient Economy
Australia has economic resilience and potential provide a safe, low-risk environment in which to do business. The country's economy is rated AAA by all three global rating agencies and is forecast to realise average annual real GDP growth of 2.9 per cent between 2016 and 2020.
The strong Australian economy is good news for local and foreign property investors because this means your investment is somehow protected from the risks that more volatile economies face.
Property Undersupply
You wonder how there could be an undersupply when we see new houses and apartments being built in almost every corner.
The truth is that despite a boom in apartment building in some pockets of Sydney, overall demand for new homes is continuing to outstrip supply.
The underlying demand for new homes is still expected to grow further, by 63,000 new homes, leaving an annual shortfall of 7,000. So we can expect prices to keep growing until the demand for new properties evens out with supply, which means it is a good time to invest in Australia real estate.
Preferential Tax Treatment Through Gearing
Negative gearing is when you claim mortgage and repair costs associated with property investment as a tax deduction. For example, if your mortgage repayment amounts to $2,700 a month and you rent your property for $475 per week, you will have a rough deficit of $700, to be paid out of your own pocket each month. So, the yearly deficit will amount to roughly $8,400. If you add $800 as cost of yearly repairs, you will be able to claim a tax deduction of $9,200 from the income tax office.
This can be a significant reason to invest in property in Australia as other countries do not offer this kind of tax breaks for property owners.
Foreign Investments
The demand for Australian residential property from foreign investors, particularly from China, remains as strong as ever. According to a CoreLogic report, a lot of residential property is being bought by foreigners, accounting for 23.9% of all sales nationally in the past quarter.
The most popular cities by far are Sydney and Melbourne where the proportion of sales to foreigners in were the highest in the country, accounting for 30.8% and 25.4% of all sales over the past three months.
This popularity can only be good for property investors as this continues to push prices up to get higher returns for your investment.
The demand for Sydney housing is continuing to grow. Its good economic policies and social services make it an ideal place to settle down or invest money in.
If you are thinking of investing specifically in Sydney's eastern suburbs, contact me here.