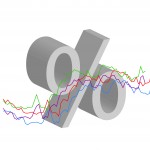 Barring NSW, which has witnessed a drop of 0.58%, each state has recorded a hike in the percentage of fixed-rate home loans written (comparing December against November). For the month of December, Fixed-rate loans contributed 33.06% of total home loans written and this figure is highest since March 2008. An article on the website The Adviser throws light on the subject.
Perhaps the trend is attributable to the fact that the Reserve Bank is playing its card very cautiously and in the present environment, people are opting for "certainly in repayments" above anything else.
Surprisingly, the percentage of fixed-rate home loans written is showing growth despite the fact that lenders across the spectrum have increased their fixed rates, anticipating a cash rate hike.
You can read the original article here.
Till when do you foresee cash rate keeping steady at 2.5%?