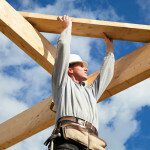 In an article for the website Property Update, Pete Wargent throws light on the construction boom in the offing. The vision he creates is that of a "crane parked in each street corner" and it is like saying something for a country which found its developers and builders in a state of slumber for close to a decade.

Supply is constrained: its a myth now
Any talk about constrained supply is turning out to be a myth that needs to be debunked. Already, the number of dwelling constructions is closing on record figures and with the climate of low interest rate prevailing, things are only expected to brighten up further.
Developers raising their game
Developers did not feel like getting into their A game because of the dwelling prices, which they found to be much below what they wished for in order to make a decent profit. All this has however changed now and with a shot-in-the-arm to dwelling prices, the very same developers are jumping to join the bandwagon.
Dwelling commencements closing on record figures
Detached dwelling commencements to the tune of "27,000 plus" tells its own story. For the March quarter, units have gone past the figure of $20,000 for construction commencements; another high that has no parallels in recent memory.
Since June 2011, home completions have never seen a figure close to 40,000; something that has been the case this time. While a few locations across Australia are bottoming out, NSW, particularly propelled by Sydney, is laughing its best laugh in years.
Asian investors should be thanked not criticised
There has been a lot of talk, says Wargent, about how the Asian investors are elbowing us out of the race but truth be told, they are one sure reason why the prices of dwellings have shot up so the developers have a lot to thank them for.
You can read the original article here.
I also feel that "flagging off as inappropriate" the Chinese and other Asian investors is showing pain where it isn't. The foreign investors cannot have any of the established homes and the new homes, however rampantly constructed, will always remain a molehill in the entire property market mountain. Unless allowed to buy established homes, the Asian investors can't really elbow us out of the property race.
Far from it, they have added a dose of enterprise to our real estate, made us look up for more dwelling approvals, given government another reason to keep interest rates low, and created a flutter in the prestige market.
Do you think it is a good move by the government to expedite citizenship formalities for big-money offshore investors?