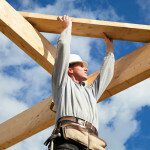 An article on Your Investment Property says the number of residential buildings constructed in NSW in  2015 will be higher than any time in the last 7 years. An 11% hike in residential construction is being anticipated in 2015. The construction work will be spread uniformly over detached housing and apartments. Renovation work is also expected to grow over the year.
Over the three months running up to November 2014, 1.054 million people were directly or indirectly employed by the construction sector.
You can read the original article here.