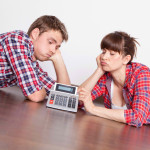 Investors become wary when rental growth of their neighbourhood begins to doze off or when rental yields for their city/state begin to suffer in general. However, such things may at large be beyond their control. What is certainly within their direct control is that their tenants do not rob them off or even behave in a frivolous manner. There are certain set of rules each investor (also likely to be a landlord) must observe.

Request for vacating possession
Let me begin with how a landlord should tackle a request for vacant possession. The landlord needs to give a 30 days' notice to the tenant in the event of seeking vacancy of the premise on the last day of the pre-stipulated term. The notice period of 30 days includes the last day of the tenancy term. In the event of periodic tenancy-those without a predefined date for the end of contract- a 90 days' notice needs to be served.
This tenure automatically changes to 30 days in case the property is already being sold off and the conveyancer working on the seller's behalf has got the contractual sale agreement exchanged. Of course, it doesn't even need a mention that the tenant can choose to vacate a lot before the last day of the notice period.
The tenant's side of the equation
Now, let us examine the other side of the spectrum. What kind of notice periods should the tenants give? Tenants are required to inform 14 days in advance that they are seeking other pastures. This is relevant for the Fixed Term. In case of periodic tenancy, this period comes up to 21days.
Rent hike
Rents cannot be hiked as a surprise measure for Fixed Terms. Yes, they can be spiked as a fair percentage of the prevailing rate at the end of the term or anytime during the periodic tenancy term. In such cases, the increase in rent warrants a 60 days' prior notice.
Security deposit
There is no rule of thumb for the security deposit but there is a consensus that a deposit commensurate with four week's rent suffices. This is true for both kinds of properties; the furnished as well as the unfurnished ones.
Property management firm
Those investors who have a rather big property portfolio to cater to seek help of property management firms in general. Such professionals can help in timely collection of rent. Among other things, they can also see to the repairs and get the delinquent tenants to fall in line. A bonus- they can ably guide you as to what is expected wear and tear and what is a clear case of negligence on part of the tenants.
Have you ever been at the receiving end of defaulting tenants?