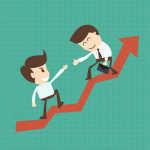 There is no denying the fact that some of the real estate investors who call themselves experts are really so. This said, there are a few average investors who have also afforded to claim the same during the boom phase. So how do you filter the best from the also-rans?
Everyone needs a mentor
Every human being needs a mentor. Property investors are no different but to ensure that the people they trust are no less than absolute experts of the game, here are a few tips.
No matter how good one is at theories and predictions do not let someone hold the 'mentor' tag unless he or she is actively involved in real estate investments.
Choose a person who has been in the market for the last 15 years or more. These are the people who have been through more than a cycle and understand how a market behaves in all its stages. Imagine if there is a profit to be made from a counter-cyclic investment, who can tell you about it. Think!
Keep 40 as the minimum criterion for the number of properties they have transacted. Unless they have engaged in this many, they might not be well versed with different conditions related to purchase and sale.
Acknowledge and respond to any potential conflict of interest. Never choose a mentor who may have a property to sell you. May be, this guy still has your best interests in his heart and it is only a coincidence that he has a property to sell to you but you cannot take the chance. Not least so when you are ready to heed any and every advice the person gives.
And, do not buy into mentors who come up with ideas that are too good to be true. Well, most of the times, they are just that.
These tips will surely help you get a well-meaning and a thought-expanding mentor for yourself in the property market.
What's the most brilliant aspect of your mentor and how has he helped your real estate graph?