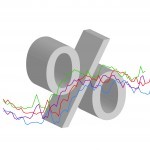 An article on the website Your Investment Property talks about how borrowers are intent on freezing their interest rates because of the low mortgage rate climate. As a result, fixed rate home loans have been on the rise and they have made up for 26.64% of total loans written in the month of October. This coincides with an eight month high.
Of course, the trend can also be put down to the fierce competition between Australian lenders. They are coming out with their best baits. As a natural conclusion, this is allowing borrowers to have some really good fixed rate bargains.
On the other end of the spectrum, variable loans are doing as well as ever, despite a near 1% drop when last counted.
You can read the original article here.