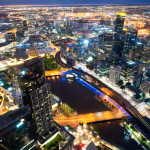 In a video-assisted article that covers RP Data's Mid Month Market Update for April, Tim Lawless confirms that though there is nothing really bullish about the property market at this point in time, the signals are not discouraging either.

Five city aggregate index
The five city aggregate index has risen by half a percent over the first half of the month. If the capital city market grows at this rate, it will have reached the 1% mark by the end of the month. Considerably lower than the March figure of 2.3% (month on month) though.
Melbourne's dwelling value falls in April
Apart from Melbourne, dwelling values have risen across the other 4 cities involved in the index. Melbourne has seen a fall of half a percent. Sydney has been phenomenal yet again; what with its values closing on the 2.3% mark, substantially higher than Brisbane (0.7%) – the second highest performer.
Melbourne's fall is attributable to the correction its market has shown in prices, given that the city has posted 5.4% value growth over the March quarter.
Low clearance rates
A really huge number of homes have been coming under the hammer but clearance rates are suffering; perhaps an indication that the seller's market conditions are just beginning to reverse. Lesser time-in-market for properties and low vendor discounts however suggest that homes are selling at a fast pace despite lack of discount incentives.
You can go through the original piece here.
Sydney's market conditions are a reflection of its strong fundamentals. Construction industry is back on its feet, supply is fast catching up with demand (though there is always a hushed-up talk about chronic housing shortage).
Foreign investors
Attention from the foreign investors- Asian investors in particular- has kept the market fuelled up and the re-emergence of the Prestige Market has given yet another reason to be cheerful about the harbour city's real estate.
Perhaps, population growth is the only challenge in sight and how Sydney counters it and turns its net immigrants into skilled labour force will determine how it tackles a future crisis.
When do you foresee correction in Sydney's property prices?