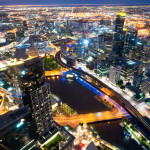 The optimists have got something to cheer about, what with building approval levels reaching a record high in the year that went by. In fact, for those with their eyes on the numbers, it is the first time that Australia went past the 200,000 mark – reporting 200,814 approvals last year.

"Peaked up" or 'Peaking'
December's performance of 17,753 approvals was a cool 8.8% higher than what December 2013 boasted. Detached dwellings shot up by 9.9% while private sector building approvals increased by 4.8%. Experts feel that the rumour about a "peaked up approval cycle" is nothing but a rumour and a building boom might be on the cards in 2015.
Consequences of the building boom cycle
The building boom cycle will percolate deeper, giving way to increased housing supply, which, in turn, will reduce a lot of pressure when it comes to affordability. There is news that residential buildings outperformed other industry sectors in 2014. That's saying something! Low interest rate environment has given birth to a frenzied demand activity from Australian buyers and it's a trend that may well continue in 2015, too.
You can read the original article here.
Constant wave of rumours
In my opinion, rumour mills work overtime and it seriously does so when it comes to our property market. First, there was talk of a property market boom when in reality we were just looking good because we were coming over consecutive cycles of poor growth.
Now, there is talk of how net overseas migration and skilled workforce in particular can hamper the construction sector. On the heels of such development, there are pundits shouting about a "peaked building cycle" which certainly is not the case. Building approvals, if anything, may only reach higher levels in 2015.
What's the weirdest rumour you have heard about the property market?