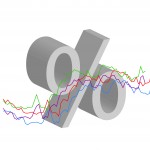 I can't say I am unhappy with the prevailing interest rates. I will have to be out of my mind to crib. However, I think I know the market enough not to be overjoyed either. For long, I have been thinking about a cash rate reversal (for me, the hike might come sooner than expected). Michael Yardney, in an ever so engaging article on the Property Update, talks about a possible hike as early as 2014.

The rate hike may come on the heels of another cut of 25 basis points sometime in November (Yardney foresees it for the Melbourne Cup day). Where are the indications? Well! They are aplenty.
Why cash rates rise?
It is clear that cash rates spike when the gap between fixed and variable rates begin to close in. For some time now, fixed rates were hovering at a full percent below the variable rates. Suddenly, this lacuna has narrowed to 0.79%.
Taking into account that the variable rates are often discounted as much as 0.70%, the actual gap remains nothing more than 0.10%.
The gap between fixed and variable rates is narrowing
Historically (and also with an eye towards Economics), cash rates lie low till the time fixed rates are distinctly below the variable rates. This no more being the case, you can expect a hike soon.
Be clear about your mortgage commitments
I know this might not be great news for you. You were banking on the low rates to reduce your borrowing costs. This is where Yardney asks you not to overstretch yourself and ensure that your mortgage commitments do not overrun 1/3rd of your monthly earnings.  After all, crossing the  '1/3rd '  barrier may hurt you in an environment of interest rate hike.
Better to err on the side of caution.
You can read the original article here.
I feel that lack of inflationary pressure has helped interest rates stay this low for so long. In fact, there is nothing suspicious in the interest rate story as it is lying close to its historical average.
However, pundits all over feel it is only a matter of time before the rates climb a few notches higher. Whether it rests close to the 7% mark or settles for 5% or thereabouts is another question. This extra 2% will be enough to make all the difference in the life of borrowers.
How will your mortgage liability pan out if rates reach 7%?