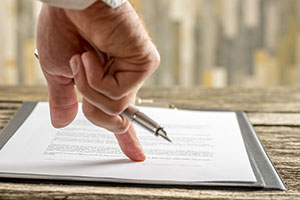 I read an interesting piece on imgur.com which talks about how a lessee (tenant) tampered with a property lease agreement because it came in a Word file instead of a PDF.

A "birthday cake" clause added to the lease agreement
While the lessee abstained from making any ill-meaning changes to the lease agreement, Glorious Gherkins (Reddit user and the lessee) did add an interesting birthday clause to the agreement. The clause is printed below in italics.
Lessor shall provide birthday cake for Lessee(s) on the weekend closest to their birthdays, which are June 7th and February 17th. Vanilla cake is not acceptable.
Lessons for all the lessors
So, a United States tenant takes unfair advantage of a lease agreement that reaches in a Word document. What lessons are there for us here?
You can read part of the lease agreement here.
Property lease agreement is a significant document
The lesson really is quite simple. As a lessor (landlord), you will want to read the lease agreement once it has come back signed from the lessee. It is a very significant document and some lessees can be shrewd enough to tamper with it even if it arrives in some apparently non-editable document. After all, not all the lessees will limit themselves to adding only a "birthday cake" clause.