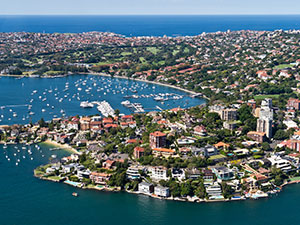 Who does not crave for a view of the Sydney Opera House or the Sydney Harbour Bridge? Who wouldn't love to witness the New Year's Eve fireworks from the windows of their Prestige Market homes?
Yes, Rose Bay is special for a variety of reasons. This affluent part of Sydney's Eastern Suburbs located seven kilometres from the Sydney Central Business District has a long line of investors rallying for it and the numbers aren't shrinking any.
Overseas buyers showing great interest
Overseas buyers have showed great interest in extending their portfolio through a Rose Bay purchase. Sometimes, however, interest and intent do not suffice. Investors, to their utter dismay, have found time and again that in order to enter the Rose Bay real estate game, one needs an expert hand. Overseas buyers in particular do not have any kind of grip on prevailing market conditions. This is why they often end up buying property at a much higher rate than it is worth. Naturally, it affects their capital growth and also hurts their rental yield (higher purchase price means you need to procure much higher rent to balance the rental yield again).
NRIs and Expats in a disadvantageous position
Overseas buyers have the extra handicap of dealing from a different time zone. This effectively cuts down any chance that they might have had of negotiating successfully. On top of this, their assumption that they can deal with the market upon returning to Australia (there are many expats among overseas buyers) can't be more incorrect. After all, the market might time them out by the time they get here.
They can use the alternative model: friends and relatives doing all the possible legwork for them. This, however, can backfire just as easily. Even with the best of intentions, overseas buyers cannot expect their friends and relatives to negotiate the best possible price for them, not to mention how such helping hands can be fooled by the exterior of a property location on a regular basis.
Why Tracey Chandler may be your best bet
Tracey Chandler is not an artist, but when you engage her services as your buyers agent in Rose Bay, you get the feeling that a work of art is taking shape. She is so precise in what she does. Her eye towards detail is impeccable. And she is foresighted enough to judge how market dynamics might shift like quicksilver and leave you in uncertain territory. In fact, she is often able to use the adversity to her favour, being smart enough to make the most of any counter-cyclic movement that may occur in Rose Bay.
Tracey has a wonderful rapport with sales agents, even with those whose properties are not listed yet. Tracey takes it entirely upon herself to initiate the purchase (through auction or negotiation), takes it through the mid-phase (organizing pest and building inspection and signatories) and takes it towards completion (pre-settlement inspection, title deed, among other things).
Delightful prospects ahead for local investors, too
Local investors may also fail with the kind of legwork and know-how required to make a decent purchase. While they are more or less aware of prevailing market conditions, they may not know much about the comparable sales figure of a locality, thereby ending up paying a lot more than is required.
Whether you are an expat, an NRI or a local investor, Tracey can help you fulfil your long-sought dream of owning property in Rose Bay. You can call Tracey today and talk more about it. She will be more than glad to help.
Call us now on

0416 100 839